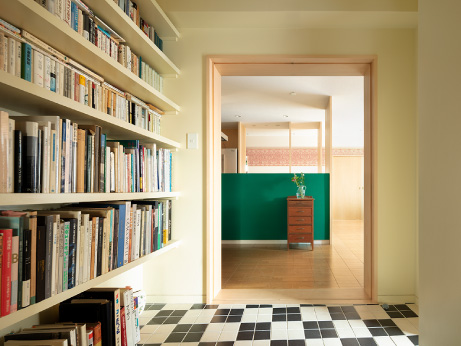 Penthouse renovation
Kanagawa, Japan

Date: 2016-18
Floor area: 169.81m2
Architect: atelier nishikata
Structural Engineer: OUVI
Contractor: Kudo Koumuten
"Frame" is the renovation of a penthouse in the Tokyo metropolitan area. Two adjacent dwellings (east and west) were made into one unit for a family of four. In order to make it easier to divide again in the future, and to meet the project's budgetary constraints, the main construction work was largely confined to the living and dining area of the eastern unit.
Our challenge was determining how to create spatial relationships within the larger new unit, with its mix of new space and original, untouched space. Taking a cue from the positions of existing concrete columns, walls and openings, first a rectangular space in the west dwelling was enclosed. It was then reproduced at the same size in the east dwelling and rotated 90 degrees. (See the photos and the plan animation). Within the one combined dwelling unit, there were now two rectangular rooms, each with windows and doors of the same size and in the same locations. The newly created eastern rectangle is a living space with a new kitchen; the original rectangle is the studio for the owner's work. The accumulated experience of going back and forth between the two identically shaped rooms in the course of everyday life will finally bring the unity of space to the new dwelling unit.
首都圏にあるマンションのペントハウスの改修。隣り合う二つの住戸(東側と西側)を、4人家族用に一つの住戸に編み直した。将来再び分割しやすくするために、そしてこのプロジェクトの予算上の制約を満たすために、主な建設工事はほとんど東側住戸の居間と食堂に絞ることにした。
ここでの私たちの問題は、新たなスペースと他の手付かずのスペースが混在するより大きな新しい住居全体の中で、その空間的関係をどのように構築するかということだった。そこで、既存のコンクリートの柱、壁、および開口部の位置を手がかりに、西側住戸内にある長方形のスペースを囲み、次にそれを90度回転させた状態で東側住戸にうつし、再現した(写真、プランアニメーション参照)。こうすることで一つの住戸内に同じ大きさの長方形の部屋が二つ存在することになった。窓やドアも、同じサイズで同じ位置に備わっている。新たにつくられた東側の長方形はキッチンを含むリビングスペースとなり、オリジナルの長方形は施主の仕事のためのスタジオとなっている。日常生活において、二つの同じ形の部屋を行ったり来たりする経験が積み重なることによって、新しい住戸に、ようやく一つの住まいとしての空間的なまとまりがもたらされるのだ。